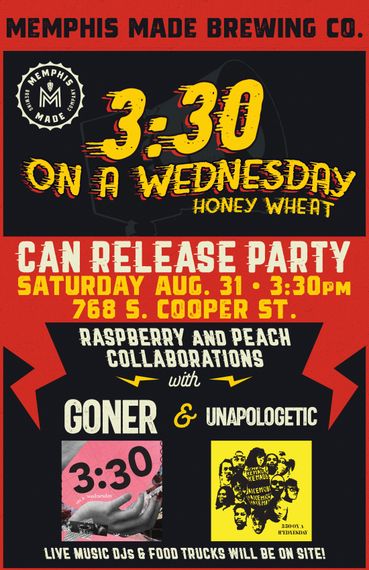 What's better than one new beer? Three new beers.
We're throwing a can release party this Saturday for 3:30 on a Wednesday, our American Honey Wheat Ale.
To honor of our great city's bicentennial we brewed this beer with a double addition of Centennial hops and local honey. 
It was such a hit we decided to bring it back. 
But it's not alone this time. 
We brewed two other versions of 3:30 on a  Wednesday, one with raspberry and one with peach. 
We worked with Goner Records and Unapologetic to design cans for these new beers. 
Goner Records and Unapologetic will be playing music Saturday to celebrate these new brews. Hillboyz Mobile will be on site with the grub.
We open at 1 pm with the festivities starting around 3:30 pm.
There will be kegs of these beers to enjoy on Saturday with six packs available to go. 
These limited release beers will around town next week, but this is a chance to get to them first. Hope to see you at our place Saturday.