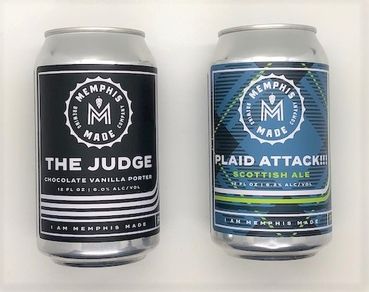 With winter and cold weather firmly here, we've decided to help make everyone's day a little brighter with the release of two favorites, the Judge and Plaid ATTACK!!!, this week.
Look for these two darker ales on tap and in cans around Shelby County and North Mississippi, wherever good beer is sold, well into January.
This is our first time canning these beers.
In case you need a reminder, the Judge is our chocolate-vanilla porter made with Madagascar vanilla. This very judicious offering balances roasty malt notes with hints of vanilla and cocoa. It has a solid body and holds a great head at 6 percent ABV.
Plaid ATTACK!!! is another beer that will help fight winter's chill. This Scottish ale clocks in at 6.2 percent ABV. Its solid malt backbone comes from Marris Otter, crystal, chocolate and a dash of smoked cherry wood malts. It's balanced with a variety of UK classic hops to create a smooth drinking experience.